Bio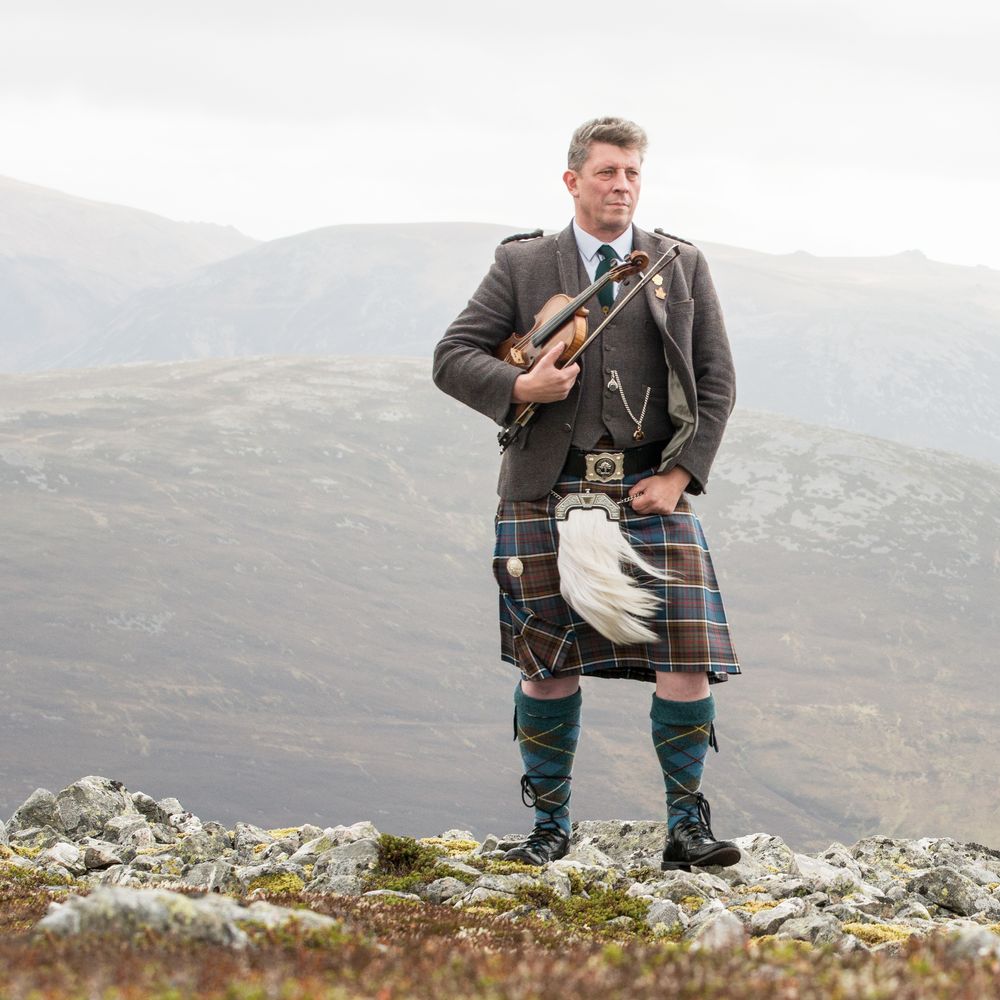 Already something of a legend in the time honoured fiddle tradition of Scotland; Paul Anderson is the finest Scots fiddler of his generation. Although only in his forties, he is already something of an icon in Scotland, a fact duly recognised by two specially commissioned portraits of him, a life size one in Aberdeen Art Gallery and a study which is in the care of the National Portrait Gallery in Edinburgh.
In the tradition of many of Scotlands great fiddlers, Paul is a composer of some repute, having composed over 300 pieces in the Scots style. His music provided the theme tune for the film Red Rose about the life of Robert Burns, Paul composed and recorded the theme music for the PBS television show, Tartan TV,in the USA and in 2008 he was the musical director for HMT Aberdeens critically acclaimed production of Sunset Song by Lewis Grassic Gibbon. In 2008 Paul performed at a private reception for Prince Charles at Fyvie Castle to celebrate Prince Charles' 60th birthday and in June 2010 he performed at an 80th birthday party in Edinburgh Castle for Sir Sean Connery at the request of the Scottish Government. In 2011 Paul performed at Scotland House in Brussels for members of the EU parliment and at a Burns Supper in the British Embassy.
During his competitive career Paul won most of the traditional fiddle championships in Scotland and in 1995 won Scotland's premier fiddling event, the Glenfiddich Scottish fiddle championship which is held each year at Blair Castle.
A regular on Scottish T.V and radio, and in 2011 he presented a series of features on traditional Scottish music and song for the BBC Scotland programme "Landward." Paul has toured extensively and recorded eight solo albums and over forty albums with artists like Pallas, Rock Salt and Nails, The Cutting Edge and the Banchory Strathspey and Reel Society. Paul regularly recites the poetry of Robert Burns and in 1993 he played the part of the young James Scott Skinner in the play "The Strathspey King".Paul was brought up on the family dairy farm at Tarland near the Cairngorm National Park in the heart of rural Aberdeenshire, where at the age of five he discovered an old fiddle under his grandparents spare bed, an old French violin which he plays to this day.
He began classical tuition at Tarland primary school with Andy Linklater but before long joined the acclaimed Scots fiddle group, The Banchory Strathspey and Reel Society.
I was brought up in a house where I can remember my dad reading Kidnapped by Robert Louis Stevenson to me and where the music of The Corries, Hector MacAndrew, Robbie Shepherd's radio programmes and Johnny Cashwas often to be heard. When I stared fiddle lessons it was with the intention that I'd eventually be learning Scottish music.
For a short time Paul then received private tutoring from Angus Shaw of Banchory before going on to study for several years with Douglas Lawrence of Buckie. Douglas was a Golden Fiddle Champion in 1979 and was the most acclaimed pupil of Hector MacAndrew, the finest Scots fiddler of the 20th century and a player who could trace his fiddling lineage directly back to Niel Gow and the Golden Age of Scottish Fiddle music. Gow is regarded as the father of Scottish fiddle music and was a legend in his own lifetime, having played for Bonnie Prince Charlie in 1745 and being visited by Robert Burns during his highland tour; Hector's grandfather was taught by James Mackintosh of Dunkeld who was the last pupil of Niel Gow. Therefore Paul is part of a teaching lineage which stretches right back to before 1745 and the time of Gow.